January isn't only about celebrating New Year, preparing resolutions, and formulating new goals. January is also National Thank You Month; the perfect time to express gratitude to those that support you. At Vectrum Graphics, you, our customers, are who really matter.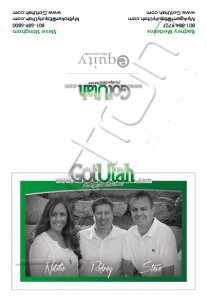 It's an honor to have customers who have remained loyal since day one. Thanks for the patronage. Thanks for trusting us. Thanks for telling your friends about us. We appreciate you. On top of our gratitude, it is a pleasure for us to serve your corporate printing solutions.
Since National Thank You Month is an opportunity for everyone to express gratitude, here are a few ideas for other businesses to show appreciation to their loyal customers.
Tent Cards as Thank You Cards
Tent cards are great for displaying text on both sides. They are functional and diverse. Tent cards can be propped up in offices, living rooms, at conferences, restaurants, coffee shops, stores, and more. Our tent cards come in three options:
Print Your Own. Raging with creativity? This option is for you. All you need to do is send your original tent card design to us and we'll print them for you. Or you can also let us enhance that design. Whatever you want. This is freedom.
Corporate Account Templates. If you're in a hurry and don't want hassle, you can choose from our wide array of pre-designed, corporate approved tent card templates.
Custom Designs. Not sure what to print? We can help you by conceptualizing the perfect custom tent card design you want.
Need something beyond tent cards tp express thanks to your customers? Try our other corporate printing services such as stickers, postcards, notepads, presentation folders, and more.